Alder Veterinary Practice in Guildford, Surrey is a small animal veterinary clinic based in the north of Guildford providing the highest standard of veterinary care in a professional and friendly environment.
Alder Veterinary Practice in Guildford, Surrey was established in the early 1980s, and since then has established a reputation for excellent but fairly priced veterinary care.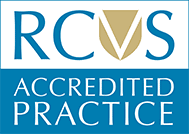 As a fully accredited RCVS practice, we meet strict standards and ensure our team is up to date with the latest techniques. We continually look for ways to improve our service to both clients and patients alike.
We offer a full range of in-house surgery at our facility in Guildford, Surrey, without the need for referral to external specialist centres. This helps your pet recover quicker as it greatly reduces stress for them and for you too! On site we have advanced facilities; diagnostic imaging, digital radiography, endoscopy, ultrasound and state of the art in-house blood analysis.